Project NTAS - Northwest Tropical Atlantic Station for air-sea flux measurement
Location Map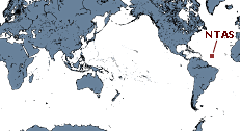 NTAS surface mooring deployed near 15° N, 51°W.
Surface Buoy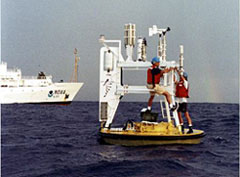 UOP technicians servicing the NTAS buoy at sea.
Overview
The Northwest Tropical Atlantic Station (NTAS) project for air-sea flux measurement was conceived in order to investigate surface forcing and oceanographic response in a region of the tropical Atlantic with strong SST anomalies and the likelihood of significant local air-sea interaction. The primary science objectives of the NTAS project are to to determine the in-situ fluxes of heat, moisture and momentum, and then to use these in-situ fluxes to make a regional assessment of flux components from numerical weather prediction models and satellites.
Between March, 2001 and October 2022, we maintained a fully-instrumented surface mooring at 15°N, 51°W to collect accurate time series of surface meteorology and upper ocean temperatures, velocities and salinities. The data collected will improve our understanding of the air-sea fluxes and sea-surface temperatures in the Northwest Tropical Altantic.
The NTAS mooring site is an OceanSITES Ocean Reference Station, and is World Meteorologcal Organization station number 48401.
Sponsors
The NTAS project is supported by the National Oceanic and Atmospheric Administration (NOAA) Global Ocean Monitoring and Observing (GOMO) Program through the Cooperative Institute for the North Atlantic Region (CINAR) under Cooperative Agreement NA14OAR4320158. NOAA CPO FundRef number 100007298.